A man around 50 years, called me and asked for support. He was in a desperate situation. He was not able to go to the dentist for at least 3 years. His fear was to big, because he is suffering from very serious tooth and gum pain at the level of 10+ since years. The last advice from a dentist a couple of years ago was, to take out most of the teeth and heal the inflammation in the gum. Because he was not going, the inflammation spread into most of his joints, the knees, the back, the stomach. He said, that the pain level in this areas is also 10. But to get this "repaired" he needs to start with healing the teeth and gum.
I offered him one time TAO Calligraphy Master Soul Healer Blessing. After that, he remembered still the fear of going to the dentist. But he went. Even when he stand in front of the dentists practice, and a voice inside said, please turn around and leave, he went in and receives now the treatments he needed since years.
I'm very proud of his faith. Also it's very important for him to share his situation once a week, because it helps him to continue with his process.
And I'm very greateful to Master Sha and the TAO that this incredible treasure are taught in this days to help people to reduce their suffering. I can't thank Master Sha and the TAO enough, that I was able to transmit the healing power through a TAO Calligraphy.
***
TAO Calligraphy can transform more than our physical health. I'm deeply honored to serve anyone suffering from discomfort in their mind, emotions, relationships and more to bring well-being, peace, happiness and faith instead.
Contact me privately and I'm delighted to offer you this service. 
I love you all and and happy to support you on your healing journey.
Love and Light to all of you
Sabine-Vistara Hofmann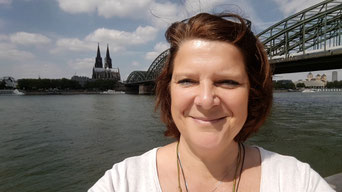 Sabine Vistara Hofmann
TAO Wellness Center
Germaniastraße 50
51103 Köln
Germany