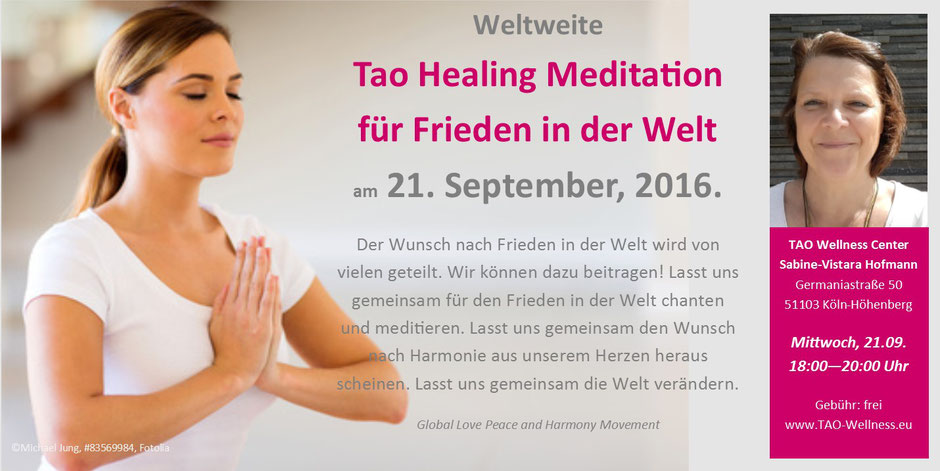 Viele Menschen wünschen sich Frieden in der Welt.
Ein Weg auf diesen Wunsch aufmerksam zu machen, ist gegen den Krieg zu demonstrieren.
Ein weiterer Weg ist, um etwas tiefgreifendes zu bewirken ist,  Frieden in uns zu schaffen. Harmonie in uns zu schaffen.
Warum?
Damit wir das beste Beispiel für Frieden werden. Damit wir einen Beitrag für Frieden in der Welt leisten.
Dies bedeutet auch, sich seine eigenen Verhaltensweisen anzuschauen. Wo bin ich noch nicht in Frieden mit mir selbst? Wo bin ich noch nicht in Frieden mit den Menschen, die mich verletzt haben? Wo bin ich noch nicht in Frieden mit anderen, aus welchen Gründen auch immer?
Was kannst du selbst dafür tun, diesen Unfrieden in die selbst zu befrieden?
Mein Lehrer, Dr. & Master Zhi Gang Sha, wie auch viele andere spirituellen Lehrer aus dieser Zeit sowie aus alten Zeiten sagen, dass der Schlüssel für den Frieden in der Vergebung liegt. Vergebung bringt inneren Frieden und innere Freude. 
Wenn wir gemeinsam meditieren, Chanten und uns selbst in ein Feld und Frequenz von Harmonie und Frieden bringen, können wir unsere eigene Zukunft verändern. Wenn wir mit Millionen von Menschen weltweit gemeinsam für den Frieden meditieren, kann dies Strahlkraft haben und negative Strukturen verändern. Wir können einen Beitrag leisten. Lasst uns gemeinsam unser Licht strahlen  und die Botschaft des Friedens in jeden Winkel der Welt tragen.
Wir werden unter anderem das das heilige Seelenlied von Love Peace und Harmonie chanten / tönen. Dies ist das Göttliche Seelenlied, welches wir zur Heilung und Transformation aller Blockaden im Leben gesungen wird. Es ist das Lied der Love Peace Harmony Bewegung, die Master Sha im Dezember 2010  in Neu Delhi, Indien, ins Leben gerufen.


I love my heart and soul                       Ich liebe mein herz und meine Seele
I love all humanity                                 Ich liebe die geamte Menschheit
Join hearts and souls together              Vereinet Herzen und Seelen
Love Peace and Harmony                    Liebe, Frieden und Harmonie
Love, peace and harmony                    Liebe Frieden und Harmonie

Möchtest du auch dazu beitragen Teil der friedvollen globalen Friedensbewegung zu sein?
Dann freue ich mich, wenn wir am
Mittwoch, den 21.September 2016 von 18:00-20:00 Uhr in Köln-Höhenberg
gemeinsam für den Frieden chanten und meditieren. 
Wer sich den ganzen Tag in eine globale Friedensmeditation einklinken möchte, hat viele Gelegenheiten dazu.
Ich möchte aber eine eine besondere erwähnen, die mein Lehrer Dr. und Master Zhi Gang Sha initiiert hat.  24 Stunden wird das kraftvolle Mantra "Love Peace Harmony" in 19 verschiedenen Sprachen gechantet. Du kannst mit einstimmen. Es ist überaus heilsam für dich selbst, aber essentiell für die Welt. Die Bewegung beginnt um Mitternacht EDT auf www.TV.DrSha.com
Wann in Köln
Mittwoch, 21. September 2016
18.00 - 20.00 Uhr
Wann Global?
Mittwoch, 21. September 2016
24 Stunden, ab 0.00 Uhr EDT 
Wo in Köln
TAO Wellness Center
Sabine-Vistara Hofmann
Germaniastraße 50
51103 Köln
Telefon 0173 3240966 - Ich Bitte um Anmeldung
Email: sh@TAO-Wellness.eu
U-Bahn-Station: Fuldaer Straße